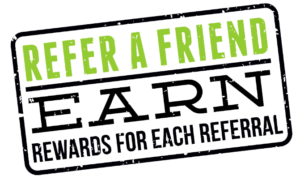 Referral Rewards Program
At West County Landscaping we are extremely grateful for you taking the time to share our name with your friends.
There is no greater advertisement than your recommendation! To show our appreciation for sharing us with your neighbors, friends, and family, we have developed a robust referral rewards program that requires very little from you and the new client you refer to us.
For current, active clients who have referred their friends and neighbors to us we will send you a $25 gift card reward for each referral.
New clients must sign up for one of our recurring service programs including
Lawn Mowing Service
Turf Health Care / Lawn Fertilization Program
Landscape Health Care Program
Review Rewards Program
Google and Facebook reviews are critical to our ability to market to new clients in your area.
As a symbol of our appreciation we would like to give you a $25 gift card for every review you submit on Google or Facebook. You are eligible for this reward once every 3 months.
To ensure you receive credit for your review, please send an email to sales@westcountylandscaping.com to notify us when and where you submitted your review.